SRT-XD Vanguard Big Block EFI 993cc 37hp
The SRT Series has everything the RT is equipt with: GT Trac for incline traction, the Vibration Control Deck System, easy touch brake system, and ergonomic cockpit. With one exception, the SRT has so much more.

The most prominent feature is Smart Ride Technology. All SRT Series mowers are equipped with an improved Smart Ride Technology package. Middle and back Elastomer TecsPak® and front neoprene cushioning absorb any shock or jostling. This, along with our soft ride rear radial tires and our frame design with neoprene torsion bar makes the SRT the smoothest riding mower on the planet.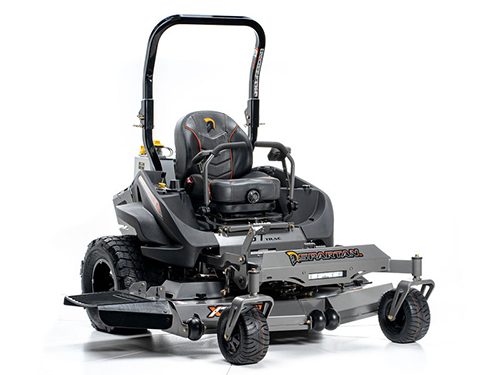 ENGINE
| | |
| --- | --- |
|  Engine Name |  Vanguard EFI (61E877) |
|  Horsepower |  37HP |
|  Fuel Capacity |  9.5 gal |
DRIVE LINE
| | |
| --- | --- |
|  Hydraulic Drive |  Parker HTG 16cc wheel motors |
|  Hydraulic Drive Torque |  Continuous: 5,970 in/lb | Max Torque: 7,040 in/lb |
|  Hydro Drive Maintenance |  1,000 hours between oil change |
|  Drive Tires |  24x14-R12 Radial | 24x10.50-R12 Radial |
|  Front Tires |  13x6.5-R6 Radial |
|  Wheels Type |  Aluminum Rear Wheels and Front Hub Covers |
|  Speed (F/R) |  Forward: Up to 13MPH | Reverse: Up to 5MPH |
FEATURES
 Seat
 Floating Seat System
 Steering Levers
 Soft-touch knobs to adjust forward to back. Adjustable up and down
 Control Panel LCD Display
 Engine hour meter, Mower deck hour meter, Tachomter, Low level warning volt meter,
 Time between oil change countdown, Fault codes
 Ignition
 Keyless, enter personal code to start
 Auxiliary Power
 12 Volt outlet next to phone holder
 Storage
 Phone holder, cup holder and deep storage tray
 Hitch
 2" Read Receiver Standard
 Control Panel LED
 Warning Indicator
 Parking brake set, Drive levers, Operator present,
 PTO, Low/Hi battery volts, Low oil PSI
CUTTING DECK
 Deck Size
 61", 72"
 Deck Depth
 6" Deep, Full Floating Deck
 Deck Lift
 Foot operated with shock assist.
 Optional push-button electric actuator
 Deck Adjustment
 Change-on-the-go Precision Deck Height Dial
 Cut Height
 1.75" to 5" with 15 Cut Heights in Between
 Blade Spindles
 Cast aluminum, no maintenance/sealed four ag bearings
 Parking Brake
 Foot Operated
 Frame
 1.5"x 3" Powder Coated Fusion-Bonded Solid Steel Bridge Frame
MEASUREMENTS
| | |
| --- | --- |
|  Width |  61" Deck: 62.5" Wide | 72" Deck: 73.5" Wide  |
|  Weight |  61': 1,290lbs | 72": 1,331lbs |
|  Length |  84" |
|  Height |  75" with ROPS up (54" with Folding ROPS down) |
WARRANTY
 Engine Warranty
 3 Years
 Full Warranty
 3 Years or 500 Hours, 2 Year or Unlimited Hours
 Commercial. 120 Day Belt Warranty
 Deck Warranty
 Lifetime on the leading edge. See full warranty for restrictions
 Hydraulic Drive Warranty
 3 Years or 1500 Hours. See full warranty for restrictions
 Control Panel Warranty
 3 Years